Motogadget M.Unit Basic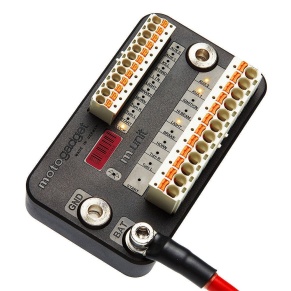 Price:
3010 SEK
Inc. 25% Tax
SKU:
75,4002035
Type:
Motogadget m.unit basic
Quantity:
m-Unit V.2 digit. push-button controls and fuse panel.
The m-Unit V.2 is a digital control unit for your motorbike - the 'heart' of the vehicle's electrical system.
The m-Unit V.2 can be operated by push-button control or conventional switch controls mounted at the handle bar.
The control box is used for switching of all necessary vehicle components and doubles as fuse panel.
Its compact case has the approximate size of a cigarette box and is completely moulded in - resistant to water, weather and vibrations.
It is easily mounted by two M5 screws. All cable connections are made using terminal blocks.
The m-Unit V.2 is the 'electrical heart' of the motorbike. All switching operations are completely digitally controlled by a microprocessor and
the latest solid-state technology - completely without mechanical relays, taking vehicle electrical systems to a new level!
• Read more about m-Unit V.2 (pdf-file).
• Example of a circuit diagram with use of m-Unit V.2 (pdf-file).
• See more information about m-Unit V.2 (video).
Parts no: 75,4002035
Dimensions: 90 x 53 x 30 mm, bolt distance 74 mm
Weight: approx. 180 g.
-------------------------------------------------
M-Unit V.2 elbox är en digital styrenhet för din motorcykel - "hjärtat" av hojens elsystem.
M-Unit V.2 kan manövreras med tryckknapps- eller switchkontroller monterade på styret.
Manöverdosan används för att styra strömmen till alla nödvändiga fordonskomponenter och den fungerar som en gruppcentral.
Dess kompakta storlek (stor som ett cigarettpaket) och att allt är helt ingjutet i den, gör den behändig, resistent mot vatten, väder och vibrationer.
Den är lätt att montera med två M5 skruvar. Alla kabelanslutningar görs med plintar.
M-Unit V.2 är "elektriska hjärtat" av en motorcykel. Alla omkopplingar är helt digitalt styrda av en mikroprocessor och den senaste solid-state-tekniken - helt utan mekaniska reläer, som tar hojens elsystem till en ny nivå!
• Läs mer om m-Unit V.2 (pdf-file).
• Exempel på kopplingsschema m-Unit V.2 (pdf-file).
• Se mer information om m-Unit V.2 (video).
Artikelnummer: 75,4002035
Dimension:
90 x 53 x 30 mm, bolt distance 74 mm
Vikt: approx. 180 g.